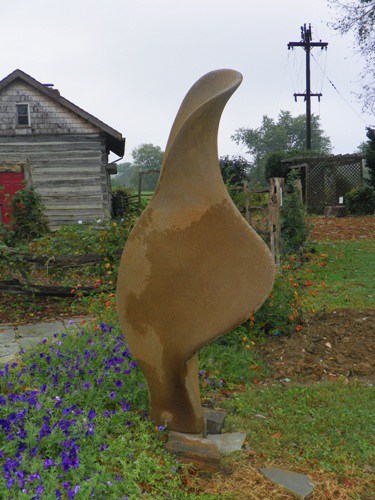 Sculpture Garden

Bob Zasadny from Petersburg, Indiana was commissioned to create this unique sculpture.  SWIMGA will be having a contest to name the sculpture.  Once a name is chosen, a metal plaque will be attached to the base.  The sculpture will be dedicated in 2015 for our 10th anniversary of the Master Garden Display Gardens.
The sculpture is made of fiberglass and resin and the finish is sand taken out of the Ohio River and shredded glass. It stands 6'x4′  Mr. Zasadny also designed a sculpture for the Evansville Regional Airport and the Audubon State Park in Henderson, KY.  You can view the sculpture by visiting the Display Gardens.  Further landscaping will be completed to set it off in its own garden.  Click on each picture to enlarge.
Thank you, Mr. Zasadny, for sharing your talent with SWIMGA.
Photo Gallery