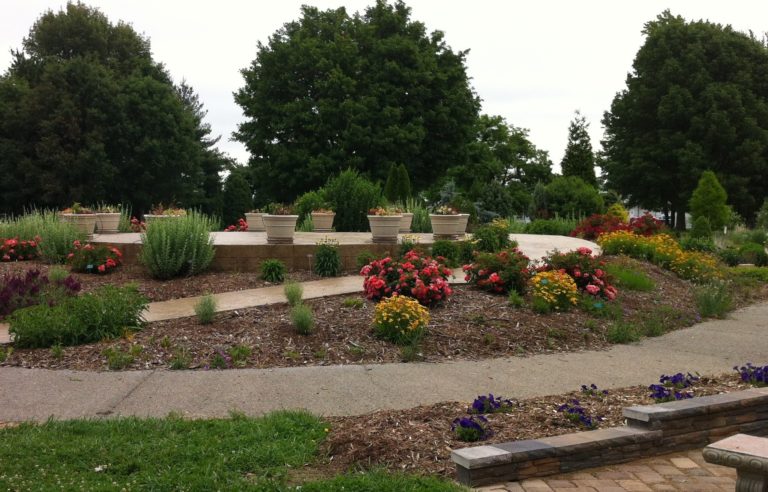 Outlook Garden

The Outlook is surrounded by planters and the base is encompassed with Russian Sage and many other flowers.  Weddings have been conducted in this garden, as it makes for a beautiful platform, elevated and surrounded by lovely flowers.
When the Master Gardeners took over the two acres that had become the display gardens, a ramp was left from a building that was once on the site. The idea was to utilize the ramp and create an outlook, a higher in area from which the rest of the grounds could be viewed. This area invites the visitor to take a moment and survey the garden from an elevated perspective.
Unfortunately the  ramp turned out to be little more than a rubbish pile. In preparing the area for planting, a small army of volunteers dug out rocks, put down a layer of manure to enrich the clay soil, tilled, and covered the area with landscape fabric to control erosion. As the plants were put in, compost from the display gardens compost bins was also added to help improve the soil.
On any slope, erosion control and watering needs are a major concern. The outlook team has selected plants that will not only provide color, but are also drought tolerant and low maintenance, as well as attracting hummingbirds, bees, and butterflies. Ground covers will help provide erosion control.
The perennials selected show up on standard xeriscape (drought tolerant) lists, and have long bloom times. They include: Russian sage 'Little Spires', Agastache, 'Apache Sunset', Agastache 'Golden Jubilee', Verbena 'Homeland Purple', Heartleaf Ice Plant, Gaura 'Crimson Butterflies', Blanket Flower 'Oranges and Lemons', and Blue Fescue. The Coral Drift roses are a low care, spreading rose, with good disease resistance.  For additional summer color annuals including annuals and wave petunias have also been added.
The long-term goal is to continue covering the Outlook with perennials, grasses, ground covers, bulbs, and other plantings that provide year-round color as well as erosion control.
The pervious concrete sidewalks throughout the gardens were provided by Indiana Ready Mix Concrete Association and the Ohio Valley Concrete Promotions. Pervious concrete is a relatively new concept. It allows water to pass through and be filtered and cooled before returning to the ground water.  More information can be found at: http://www.perviouspavement.org
photos contributed by Pam
Drone Photos
Photo Gallery