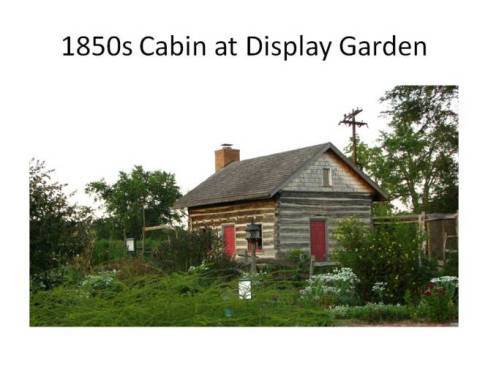 Historic Cabin Garden

This historic cabin, built out of poplar logs in the 1850s, was originally located on what is now north Mesker Park Drive. Jim and Cindy Rexing generously donated it to the Display Gardens in 2006.
Ken Brosmer and his amazing Jasper crew moved the cabin to the Display Gardens because of their passion for preserving log cabins. The cabin was placed on a concrete pad to help preserve the logs over time. The cabin logs were chinked by filling most of the open spaces with Styrofoam. A mortar-like compound was then used to fill and seal the space. The stone and brick fireplace was added in 2008, with bricks donated by Bartley and Perigo.
When the roof and the authentic gutters were added, a rain barrel was installed on one corner to save rain for use in the gardens. The gutter on the other side of the cabin is drained into a rain garden. The cabin presently serves as a meeting and storage place.
Photo courtesy of Charline Bridgeman
Drone Photos
Photo Gallery