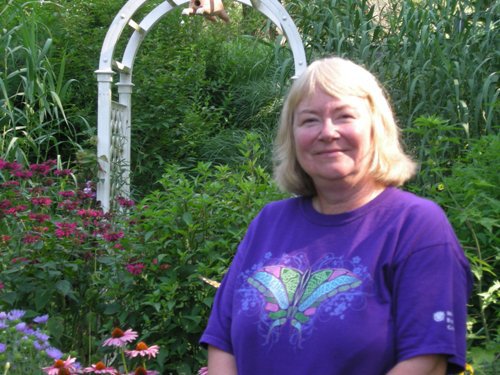 Tammy Breidenbach
Bronze Master Gardener
Tammy graduated in the Master Gardener class in 2005 and joined SWIMGA in 2006.  She also is a member of SWIDS (Southwest Indiana Daylily Society).  Her family has lived for 20 years on the property in the northwest part of Vanderburgh County.  She works at Bristol Myers and is planning on retiring in 2014.
In the back yard she has a steep hill that she has covered in grasses, weigela and vinca.  Giant Reed, which looks like bamboo, has been effective in blocking the view of traffic on the road beside her home, though they do have to work at keeping it within the assigned boundary.  A Cherry tree and yellow Lemon Queen Helianthus provide color in the spring along with a butterfly garden that contains red Bee Balm, liatris, coneflower and zinnias.
The gardens, adjacent to the covered patio, are primarily shaded.  Here she has several types of hosta including:  Sum & Substance and Sagae and also Oakleaf Hydrangeas.  Tammy and her husband, Mike, dug the area for the pond.  It is a preformed pond and it has serviced them well.  Goldfish live happily in the 24" depth of the pond.
A side garden has a Hot Papaya Coneflower growing along with purple and white coneflowers and daylilies.
Roses, a yellow Butterfly Bush and a Beautyberry Bush which bears beautiful purple berries are in the front.  There are over 100 varieties of daylilies throughout her gardens.    She has also planted some vegetables in her beds in the front as they receive a lot of sun.  Squash and strawberries have produced fruit very well in that garden. She does have a strange plant – a Voodoo Lily.   Orange Crocosmia, Artemisia, Russian Sage and Agastache reside in another bed in the front.  She also has a variety of what is often called the Ditch Lily;  her variety is a double orange, very pretty.    Orange mint is in a container to keep it in check.
Tammy volunteers as a Board member for SWIMGA hours and enjoys volunteering at the SWIMGA garden at Mesker Park Zoo.  Her favorite flowers are a daylily called Malachi (Harris 1977) and a dianthus called Chomley Farran.  Double click on each image to enlarge.
Interview by Belinda Dillback, Web Assistant