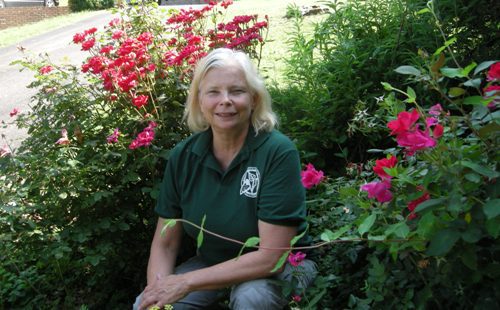 Susie Hansan
Advanced Master Gardener
Susie Hansan lives right off of St. Joe road on the West side of Evansville.  She lives in one of the areas that is tucked inside many trees and seems more secluded, even though close to a road.  She became a Master Gardener in 2012.  Susie is also a member of the SWIDS (Southwestern Indiana Daylily Society).   She retired from the Social Security office in 2008.  She also volunteers at the Potters Wheel.   As a member of the Indiana Daughters of the American Revolution, she helps raise money for phone cards for the veterans overseas and those in hospitals.  Susie has a degree in Education with a minor in Reading from USI.  She is a substitute teacher for the Vanderburgh School District.
Susie has lived in her home just two years, with 2013 being her second summer.  Her areas that she plans for gardens have just started forming this summer.  She finds gardening and volunteering very fulfilling in her life.
The garden that is by the main road has 15 different varieties of daylilies that she has obtained from John's Daylily Farm in Lynnville.    In the woods next to her home, she has many naturalized daffodils that greeted her this spring.  Her small garden by her entrance to the house has red Knock-out roses, yellow Yarrow, Vinca; Mexian Primrose and pink Bee Balm.  She plans on planting shade plants in the only available area in her side yard as it is completely shaded by the trees.
Since she doesn't have a lot of space for gardens, Susie enjoys volunteering at the Reitz Home and the Mesker Park Garden for her volunteer hours.  She enjoys showing the children the bubbling fountain and the special plants that are planted there.
Interview by Belinda Dillback, Web Assistant