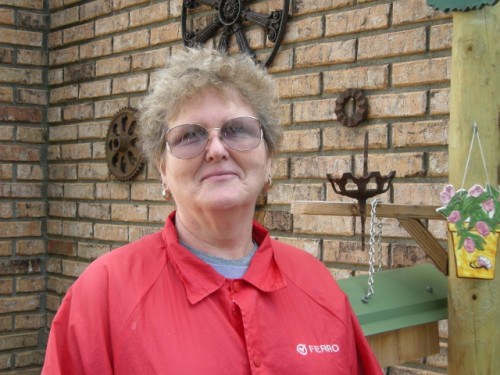 Kay Haller
Gold Master Gardener
Kay Haller is the Coordinator of the Master Garden's Wetlands and Shade Gardens at the MG Display Gardens.
Friday, February 15, 2013 Kay gave me a peek into her plant wonderland.   If health would ever be determined by the number of plants you possess, Kay should be the healthiest person ever.  She is a wealth of knowledge for anyone in every aspect of gardening.    She starts from seeds, propagates cuttings and has her own greenhouse.   I enjoyed my tour of her garden where just a few plants are peeking their heads up in anticipation of spring.   Kay's heated greenhouse is 16'x20', made of triple- pane lexan.  It has a gravel floor.  There were plants everywhere you look, with just a path for her to water and maintain them all. Just to name a few:  she has 30 pots of Amaryllis, some were blooming.  Kay plants them in the ground after all danger of frost is past.  In the early fall she digs them up, pots them and finds she has more than she planted in the spring!  Everything grows abundantly for Kay, it was amazing. In the greenhouse she also over-winters the bog plants for the Master Garden on Lloyd.  She has Papyrus, Elephant Ears, Double Flowering Rush; Water Hyacinths; Spider Lily, Bog Lilies and Water Celery. Clivia (one yellow and two orange), Angel trumpets (has a white and pink); Artillery and Boston Ferns also grow happily in the greenhouse.  Kay treasures a Petticoat Fern a fern that on the end of the frond, other fronds project out.  This is a rarer fern and was obtained by a now-deceased Master Gardener friend, one of the first SWIMGA members.
But that wasn't all, a tour of her home and her basement was filled to the brim with houseplants and seed and propagation areas.  Begonias, Swedish Ivy, Variegated Swedish Ivy; vegetables and many perennials are being grown now for spring planting.  She has fern spores that she is waiting patiently to see germinate.
Even on this chilly day the iron work that her husband has made for her was interesting.  He has made several spheres that were made out of old whiskey barrel rings and a huge flower made out of an old hay rake.   Old satellite dishes are turned upside down on a pole awaiting all of the houseplants that will be hung for added beauty in the yard.
Interviewed by Belinda Dillback, Web Assistant.
Click on each picture to enlarge.