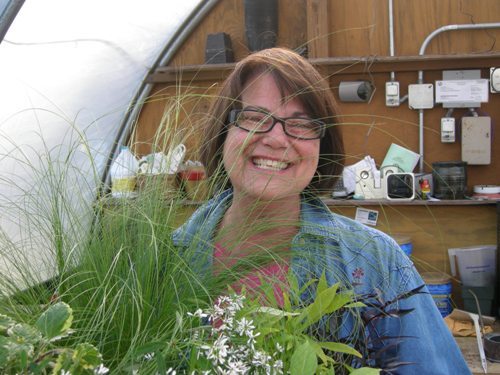 Judy says she looks best behind a plant!
My visit to Judy Schneider Kron was so enjoyable in this cold spring!  The greenhouse was packed with wonderful perennials and annuals and Judy was so fun to interview that I have to include just one of her stories.  But first – Judy purchased many books, studied and knew what type of greenhouse she wanted.  She purchased the large greenhouse in 1998.  It is 48' x 80' and covered by two layers of 6 mil plastic. Judy's husband, Larry, assembled it in 2001.  She opened the greenhouse for business in 2002.  First, her sales was by word-of-mouth, but has now evolved into a business where she is fully occupied from starting seeds in October for perennials and planting annuals in January and February to closing the greenhouse the middle of June.  Plugs are received from her supplier in March.  She shared that geraniums must be started in January and petunias around the middle of February in order to have the plants blooming in spring.  She is very knowledgeable and helpful to all who seek her knowledge.    She says she has learned by killing, which most of us can certainly relate!
I toured her gardens and certainly understand she has not had a moment to touch them while the greenhouse is open for business.  It was a very restful experience, even with the traffic that was present on outer St. Joe Avenue.  Her log home sits back on the property with the greenhouse and the smaller building where she starts her seeds.   Her pond feature was built by Dallas Foster's landscaping team and I know it is beautiful once she starts it this summer.   A tree that I just loved, pictured below, is curved and very tall.  Some would feel it should be cut down, but I agree with Judy – not every tree has to be perfect to bring interest, it is her favorite tree among all that are on the property.  She says that she has always been told that a 'gnarly tree is a tree of wisdom'.    She has lived here for 38 years and has some memorable plants like the purple iris, shown below – which is a start from her own Grandmother Schneider.   She says you can't have a greenhouse and a garden – but I am sure that by the end of June, the greenhouse closed and she has time to herself once again, the gardens will be ready for welcoming her first grandchild that is to be born on July 2nd.
One of the experiences she loves to tell is of a cardinal that brought her much joy and helped in keeping the normal bug population down substantially.  Judy says that one day he flew into the open door and chirped at her.  He promptly started doing his duty and reduced the bug population at the top corners of the greenhouse.  He was afraid of customers, but finally came to the realization that they would come and go, but the door would still be open with Judy inside.  He faithfully visited every day with his mate visiting occasionally, but it was clear that it was his domain.  He would chirp and was just a delight to have in the greenhouse for six years.  She was saddened when, on the seventh year, he did not return and she found out that six years is about the normal life-span of a cardinal.
Stop in and shop at a fellow Master Gardener that has taken her hobby to a business and an opportunity to teach others and share in her love of gardening.   Click on each picture to enlarge.
Interview by Belinda Dillback, Web Assistant.