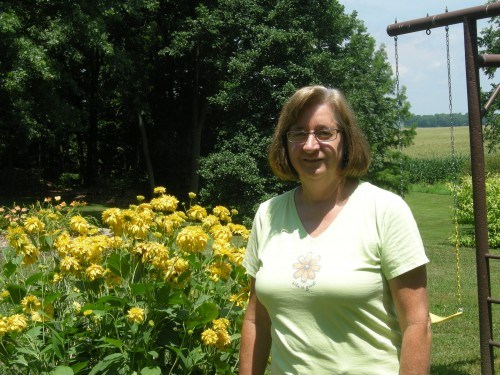 Gloria Wildeman
Advanced Master Gardener
Visiting Gloria was a trek to the country close to St. Phillips.  I didn't mind that at all as Gloria and I are friends from high school and her gardens were beautiful.  We both were raised vegetable gardening and sewing and have carried that through our adult lives.  Gloria has lived in her home that she and her husband, Frank, built 30 years ago on property that was her mother's home place.  Her grandparent purchased the property in 1920.  Her grandmother and mother always had flowers.  Their home is a three-acre property that they have worked and amended the soil continuously since living there.  The hard work has paid off with abundant vegetables and flowers.  She grows black raspberries and makes jelly every summer, much to her grandchildren's delight.
Gloria graduated the Master Gardener class in 2011 and began working with SWIMGA in 2012.  Her vegetable garden allows her to can beans, freeze corn and she also makes her own tomato juice and spaghetti sauce.  Gloria and Frank are basically organic gardeners, where everything from the corn stalks to all leaves etc. go right back into the ground when they are harvested.    They use grass clippings, leaves and wood chips for mulch along with pine needles where needed.
The Hovey House and the Rain Garden in Mt. Vernon are projects where she enjoys volunteering.  She and her husband maintain the landscaping at the Marrs Township Fire Department.  She helped with the transplanting of our plants for the Plant Sale in May and also with the Garden Walk, where she worked at the Given's home.    Gloria does have an advertised plant sale in the spring and also donates plants for the SWIMGA Plant Sale.
She has two vegetable gardens – one she calls her Spring Garden.  She grows the spring vegetables there, asparagus, lettuce, spinach and peas.  When the crop is finished, Frank plants a cover crop of buckwheat to further enrich the soil.  The Spring Garden has two large iron wheels sitting among the perennials forming an entrance to the garden.  Around both of her vegetable gardens she plants flowers.  Tiger lilies from her grandfather; peonies and coral bells surround this garden.
In the Summer Garden she has corn, green beans, squash, potatoes, onions, summer blooming bulbs…and lots of zinnias.    She does admit that perennial gardening is her main interest.  Double-click on each picture and it will enlarge.
Interview by Belinda Dillback, Web Assistant